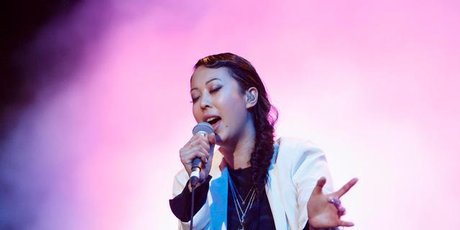 Image pinched off the NZ Herald website
The NZ Music Awards just took place an hour or two back (it's night time there as I write), and I was so pleased to see that a couple of the artists who did so well also happen to be on Bandcamp.
Notably, The Naked and Famous (above) who picked up five awards – including Best Album, Single of the Year and Best Group, and Ladi6, who took out Best Female Solo Artist & Best Hip Hop Album…
As it happens, just last night, I wrote a long email to a friend of mine, raving about how great it was that so many NZ artists are using Bandcamp.
Big name artists like Sola Rosa, Dimmer, SJD and the wonderful Humphreys and Keen seemed to be part of the vanguard, which was exciting in itself (several of my absolute favourite artists – just look at my Last.fm stats), but now so much of the best music from home is available everywhere in the world.
That Ladi6 record is certainly one of my favourites of the past year and it completely deserved the high praise it received. And what a stonker of a single that Young Blood track is… but there's a lot more great kiwi music to be discovered.
Some other stuff you should check out
The Lord Echo album is a favourite of mine. He's also known as Mike Fabulous, who's one half of Fabulous/Arabia with Lawrence Arabia. Their 'Give Me Love Tonight' (above) is getting a thorough rinsing on my iPod at the moment, and the second verse never fails to make me smile.
Shapeshifter are huge in NZ – they've just turned up on Bandcamp, by the looks of things too. The live album is absolutely incredible and a real classic… but they have newer stuff on the site too.
Another live album worth checking out is by seminal band Trinity Roots. All three of their albums are up on Bandcamp – all brilliant – but I think the live album really captures them at their best – and it also happened to win Best Roots Album at the awards just now.
The Phoenix Foundation have been up on Bandcamp for a little while, but they're really starting to get some traction in the UK. They played on Later with Jools Holland just last week.
Hallelujah Picassos (who WERE the sound of underground Auckland in the 90s) have just released their newly remastered retrospective 'Rewind The Hateman' – and I bought it within minutes of its release. Nostalgia overdrive!
And the big news is that Flying Nun Records have started using Bandcamp. They're our most influential and iconic indie label from the 80s (recently bought back from Warners by the label's original owner), who defined what became known as the Dunedin Sound.
They're celebrating their 30th anniversary and just brought out a commemorative box set. Perhaps even more significant, Nun perennials The Bats have a brand new album.
The wonderful @Peace album is also on Bandcamp, as is Rhian Sheehan's gorgeous new release, and this absolute stunner by Jordan Reyne.
And for a vinyl junkie like me, the really exciting development is a 180g translucent blue vinyl release by kiwi artist Sidhe (correction: I'm confused. Sidhe is the game studio. The artist is Module aka Jeramiah Ross), who composed the music to popular indie computer game Shatter. Turn this one up loud.
The vinyl comes with a download of the music – and also a Steam download code so you can play the game as well. It's a limited edition pressing of 1000 copies, and given how well the original release went, you can be sure the record's going to go pretty fast.
I'm sure there's a lot more. Let me know what I've missed in my rush to blog in the comments below!
But congratulations to all the winners (and everyone else too) at the NZ Music Awards. Sounds like it was a fantastic night. I think I'm going to spend much of today listening through to all this stuff again and making myself a bit homesick.
Incidentally, I notice that The Naked and Famous are touring the UK over the next couple of weeks. Best NZ band, best NZ album, best NZ single… best you go see them, yeah?